Tippy Tippens is passionate about creating things that benefit social change and a healthy planet. She is a designer, environmentalist, educator, social entrepreneur, Gandhiwarmer, ice cream flavor experimenter, and a great fan of the Canadian tuxedo. She was named to the GOOD 100 as 'one of 100 people pushing the world forward.'

After over a decade of intersectional, creative work, Tippy has cultivated a deep portfolio of professional experience, including: designing faucets for Kohler; freelancing for lighting, furniture, graphic, architectural, and wayfinding firms; creating home furnishings for individual clients; and founding a creative studio for social change.

With the ability to cover a range of social and environmental topics, Tippy teaches, keynotes, and serves as a panelist at conferences and colleges around the country, including: Association for Community Design Conference, Tulane's Taylor Center for Social Innovation, Tulane's Green Business School, Loyola's Social & Political Design Department, Syracuse University's Design & Entrepreneurship courses, New Ventures Accelerator Program, Adobe Creative Jam, Pecha Kucha, and TEDxTU. She is also delighted to collaborate on creative exhibitions, public space projects, and multi-media productions.

Tippy holds a Masters of Industrial Design from Pratt Institute and a Bachelor of Fine Arts with a focus in furniture design from Virginia Commonwealth University. She is an alumna of the 2011 Propeller Fellowship and is a frequent advisor to social entrepreneurs. She is based in New Orleans as the Chief Eternal Optimist at Goods that Matter, a design company that she founded in 2010 and the founder of The GOOD Shop.

+ See more at the Goods that Matter website +

Follow @tippytippens
Drop me a line: things@tippytippens.com

all content ©2000-2023 tippy tippens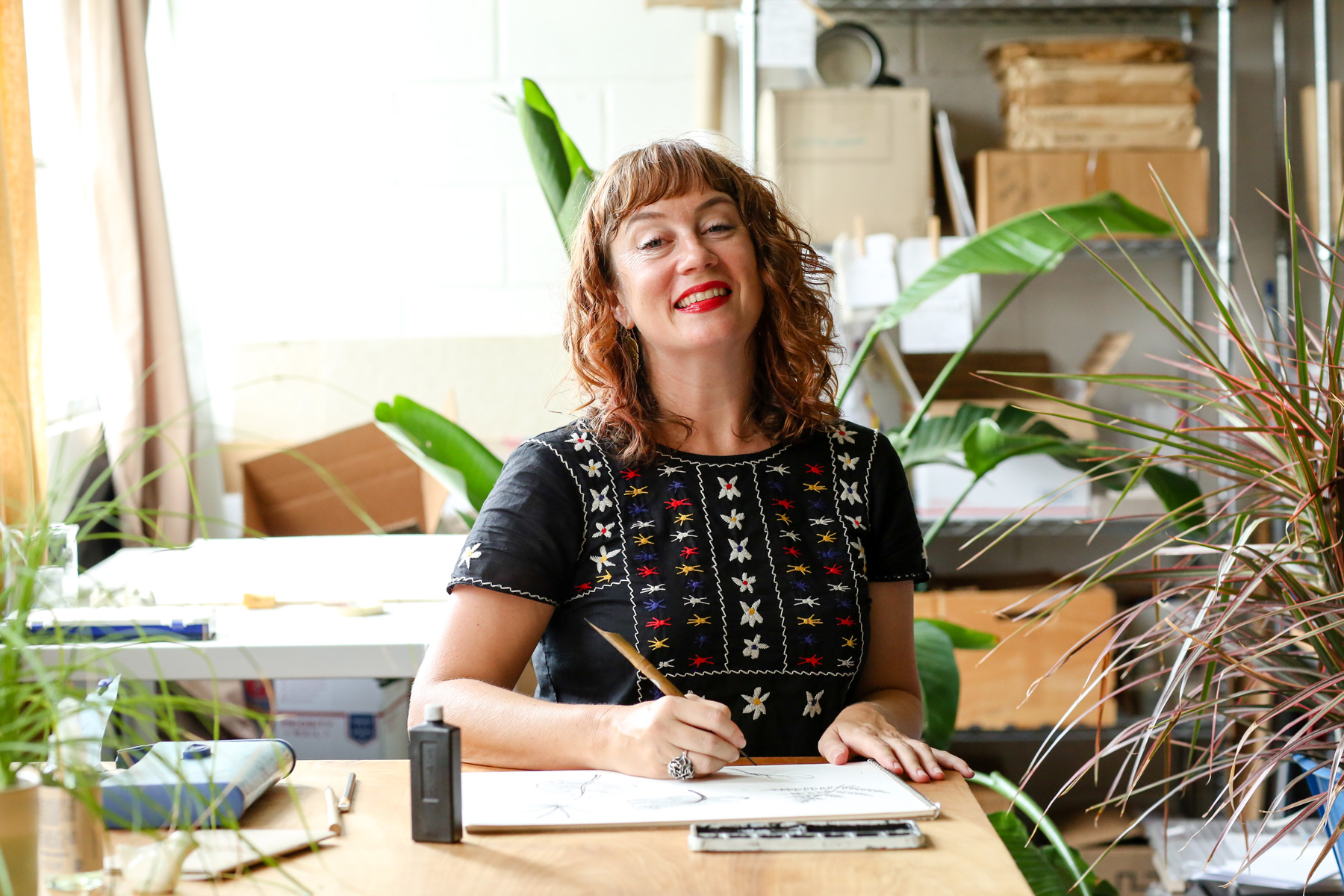 CV:


Professional Experience

Goods that Matter, New Orleans, LA, November 2010 - Present Chief Eternal Optimist, Goods that Matter creates everyday design goods, with extraordinary impact. Each Matter product is handmade in the U.S. of eco-friendly materials, that also give back to unique social and environmental causes. 10% of all proceeds flow to causes that impact the health, happiness, and sustainability of our communities. Matter is proud to be the First Benefit Corporation in the state of Louisiana and to have donated $30,866 to date to our partner causes. Goods that Matter works to make the world a better place by creating products and collaborations that matter.

Loyola University, New Orleans, LA, 2016 - 2017 Adjunct Professor, Social Political Design, Students develop advanced design skills, professionalism, empathy, & design thinking skills. Projects include partnering with community groups for social design projects to fulfill their specific needs while also earning service learning credits.

Tippy Tippens Design + Research, NOLA, NYC, RVA, 2008 - Present Design, Research, & Marketing Consultant, Projects include product, furniture, interior, exhibition, wayfinding, lighting, and graphic design (web and print), with a focus on thoughtful, sustainable solutions. Responsibilities include design/art direction, project management, research, and all design processes from conception to completion of the project. Experience also includes marketing, strategy, coaching, event planning, and workshops.

Kohler Company, Kohler, WI, November 2005 - April 2008 Industrial Designer II, Department: Faucets, Water DeliveryConceptualized, developed, and managed multiple projects in faucets, showering, wellness, and advanced research/ blue sky studies. Collaborated with human factors, engineering, marketing, and executive boards to create optimum, innovative, and differentiated solutions. Presented projects to Mr. Kohler and VP level. Led research groups focusing on the future of water, materials, trends, & discovering new uses for traditional manufacturing processes.

Freelance Industrial Designer, New York, NY, 2003-2005Wesley Martel Design (Furniture), Pagani Lighting Studio, and Louis Nelson and Associates (Signage/Wayfinding)

Furniture Designer, Richmond, VA, 1996-2002Design and build furnishings for clients, commissions, and exhibitions.



Education

Pratt Institute, Masters of Industrial Design, Magna Cum Laude, Brooklyn, New York, May 2005
Virginia Commonwealth University, Bachelors of Fine Arts, Focus in Furniture Design, Richmond, Virginia, 1996



Selected awards, honors, and guest talks

Tulane University, Guest Speaker, Green Business Course, April & December: 2023-2016
10,000 Small Businesses by Goldman Sachs Graduate, December 2021
Local Culture, Love Your City Awards Nominee, January 2021
Tulane University, Guest Speaker, Design Course, January 2021
How I Built This Fellow, NPR, October 2018
Loyola University, Guest Lecturer, Social/Political Design, September 2015
Adobe Creative Jam, Talk on Public Projects & Creative Entrepreneurship, April 2015 Tulane University, Talks for Design Thinking Courses, April, September, 2015
Guest Speaker, Americans for Community Design Conference, Detroit, April, 2014 Pecha Kucha Talk, New Orleans, LA, September, 2014
Honored to be in the GOOD 100, one of 100 People pushing the world forward, 2013 Syracuse University, School of Visual Arts, talks on Design & Entrepreneurship, October, 2012
Panelist Social Entrepreneurship, Delta Regional Leadership Institute, December 2011 Speaker, 'Obsessing over the things that matter,' TEDxTU, November 2011
Propeller Fellow, A Force for Social Innovation, New Ventures Accelerator Program, June 2011 - April 2012
Panelist Social Innovation, Second Line Conference, May 2011
Design Within Reach, Best in Show Award, 'M+D+F', Adams Morgan, Washington DC, 2009
Syracuse University, Guest Lecturer, presentation of creative process, inspiration, and work, April 2009
Conduit Group National Design Competition Award, Honorable Mention for 'Rear Window Shades,' August 2005
Virginia Museum of Fine Arts Graduate Fellowship, 2004 - 2003 Pratt Institute Graduate Fellowship, Spring 2003, Fall 2002
Industrial Design Society of America, Gianninoto Scholarship, Fall 2002



Selected Publications

Design Milk - Earth Day: 5 Modern Products that Give back to the Planet, April 2020
DNO - 'Tippy Tippens and All Things Good'
In the Business of Change, How Social Entrepreneurs are disrupting business as usual,
by Elisa Birnbaum, Goods that Matter is discussed on pages 41-43, 156-157, New Society Publishers, April 2018
Architectural Digest - '10 Super-Typical Mothers Day Gifts Cleverized' April 2018
Inc. Magazine - '3 Important ways to Manage the Fast-Moving Workforce of the Future', Oct. 2017
VOGUE - 'Beyond the French Quarter, Experience New Orleans like a local', April 2017Entrepreneur Magazine - 'Create a Business that Inspires Change (In the World and in your pocket)', January 2017
Firefly Blog - 'Goods That Matter, New Firefly and Featured Artisan from New Orleans, Is an Inspiring and Creative Force', July 2016
Fast Company - 'How West Elm Became An Unlikely Incubator Of Independent Design', April 2016
Ellen DeGeneres Blog - 'Community helps Burnell Cotlon's Lower 9th Market', March 2016
WDSU, Channel 6 news - 'Loyola students, community team up to help Lower Ninth Ward Market', March 2016
West Elm Blog - '10 Tips for building a cause based business, Interview w/ Sarah Coffey', January 2016
The Grommet - 'Makers who Made It, 100 Stories of Starting a Business', November 2015State X State - 'Interview with Tippy Tippens, Chief Eternal Optimist at Goods that Matter', September 2015
One of Many - Wesley Verhoeve's Photo Essay on Inspiring people in New Orleans', May, 2015
Climbur - '3 Creatives to Know', April, 2015
National Geographic Traveler - 'Put a Bird On it', December, 2014
Interview in Climbur, 'Tippy Tippens will inspire you to create', 2014
GOOD 100: Meet Tippy Tippens, Designing for Social Change , July, 2013
Interview aka first date with GivenGoods!, 2012
GOOD Magazine - 'Wish List, Sustainable Gifts', BirdProject, December 2011
Whole Living Magazine - 'Good Giving Guide', BirdProject, December 2011
American Craft - 'Renegade Gifts for the Host', BirdProject, December 2011
PSFK - Transportable Living Spaces, August, 2011
Springwise - BirdProject, July 2011
CEO of Saatchi & Saatchi, Kevin Roberts Blogpost on BirdProject Soaps, July, 2011ecouterre, July, 2011
Coastal Living, 'Gulf Cleanup', April, 2011
Audubon Magazine, 'New Brand of Volunteers', November print issue and online 'Volunteers aid rescued Pelicans', September 2010, April 2011
NBC Washington, 'Altruistic Celebrate Gandhiwarming '11 (Yes, Really)', January, 2011New Orleans City Business, 'Low Profit a new option for social entrepreneurs', January, 2011Washington Post, photo credit "Architecture Review: Beyond Art", VMFA expansion and grand opening, Rick Mather + SMBW, pg. C2, May 1 2010
gandhiwarmer: gothamist, high low & in between, streetsy, modern art notes by tyler green, January 2010
Pisa Bookshelf at ICFF & Brooklyn Designs: Core 77, Biz Bash Media, "What's Fresh Now," Turf Collective, Mobile ICFF Exhibition: www.core77.com, www.mocoloco.com, www.interiorINsight.com, May 2005
Art Papers, Review of Functional Diversity Exhibit, pages 44, 45, July/ August 2000Inform Architecture + Design, Volume 9 Number 1, pages 20 -25, October 1998



Selected Exhibitions/Installations

Matter Goods at the Pavilion, part of the Feast & Social Innovation Week, NY, NY,
October, 2012
gandhiwarmer, Martin Luther King Jr. Center, Atlanta, GA, January, 2012
BirdProject at The Front, St. Claude Second Saturday Arts Night, March 2011
gandhiwarmer, DuPont Circle - DC, Union Square - NYC, January 30, 2011 & 2010
Schindler Satellite Gallery, Landscape Photographs, Richmond, Virginia, January, 2010 Assemblage: An evening of Art, Architecture, and Music, SMBW Architects, Richmond, Virginia, 2010, 09', 01'
Design Within Reach, 'M+D+F', Best in Show Award, Adams Morgan, Washington DC, 2009 DWR 'Modern Milwaukee' I and III, Milwaukee, Wisconsin, 2007, 2006
John Michael Kohler Art Center, Artspace, "One and Only," [Photography] Kohler, Wisconsin, 2007
Turf Collective, ICFF events: ICFF, Vitra, Living Spaces, New York, New York, 2005 Brooklyn Designs in DUMBO, Brooklyn, New York 2005
i Saloni, Salone Internazionale del Mobile, Milano, Italia, 2005
Landscape photographs taken by car, train, and foot [solo show] Eggspace, Richmond, Virginia, 2004
Acconci Studio: Pratt Artists Respond, Pratt Institute, Schafler Gallery, Brooklyn, New York, 2003
International Contemporary Furniture Fair, Jacob Javitz Center, New York, New York, 1995, 1994, 1993

All work copyright 2005-Present day