Initially, this idea formed while a grad student at Pratt in 2003, walking past Gandhi's frozen bronze statue in Union Square in the grey, windy, freezy New York winters. I wanted to make him a hat and scarf so that he wouldn't look so cold. His bronze, lightly dressed form blanketed in frozen snow made my heart feel shiver-y. As I was a graduate student, I didn't have any spare time to knit. Later, while living in Wisconsin, surrounded by 180" of snow, I always thought of dear Gandhi and vowed to make him that hat & scarf one day to keep him warm.

I had just decided to start the project when I heard some friends were starting a knitting group. I asked if I could join so that I could learn how to knit to finally make Gandhi's gear. It took me a year to make his first set, his scarf being at least 10' long and 3' wide out of a beautiful blue wool, named 'persian peacock' btw.

Living in Virginia at the time, a few dear knitting buddies and I trekked up to NYC for a few days to perform our Gandhiwarming. We also knit hats and scarves for cold passersby - "if you need please take" and performed a ceremony of giving. We lit diwa candles (ghee dipped cotton in copper dishes), had the most wonderful sitar player perform (thank you gian carlo!), and laid flower petals around his feet.

The hat and scarf stayed up for three days -not bad for nyc- and while it remained up I also replenished the gift hats and scarves. This was the most heartwarming experience, I had no idea how happy it would make everyone that participated, including myself! To see the smiles on the faces of passers-by and the glee of those who received the hats and scarves, I buzzed on that great feeling for months afterwards. Ultimately, I see that it led me to the field of social entrepreneurship. The importance of giving gifts, helping those that need it, and creating a hopeful surprise is my focus.

Full process/news blog here & props in the gothamist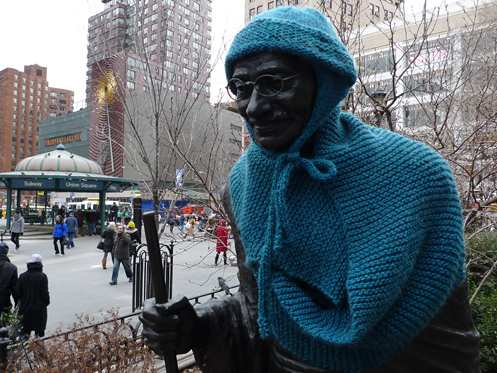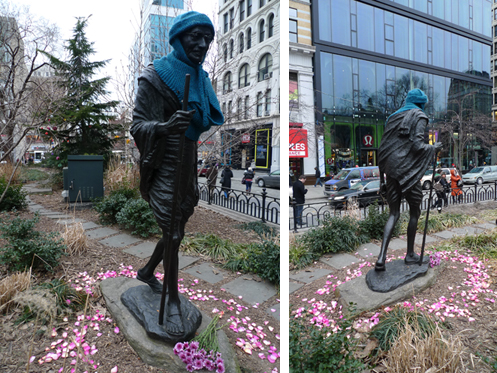 Video by Meg Mingione, full Super 8 film coming by Nikki Price.